Hey everyone!
Okay…so as of this writing, it is officially Day 5 of Camp NaNoWriMo, and I have not even hit 4,000 words yet! There are a few reasons for this. One, yesterday was the 4th of July in America and I had a jam packed day celebrating with my family, so I was not able to get any writing done. Two, I am feeling a bit under the weather so, aside from this blog post, it is unlikely that I will be writing at all today.
However, I did manage to get writing done on Day 3 and I am happy with my progress. I like the way the chapter turned out and I am looking forward to spending my Saturday morning writing the next section.
My First Story
For as long as I could remember, I have been writing. I was that nerdy kid in class who always LOVED to write. If a teacher assigned an essay, I jumped all over it. If a project offered an option to write the next chapter, that was always the one I chose.
However, I don't consider any of those pieces I produced to be my first stories since they were class assignments. Today, I wanted to talk a little bit about the first story I remember writing in my free time.
It was called "Forever in Our Hearts," and today, it would be considered Sailor Moon fanfiction. If you are not familiar with Sailor Moon, it's a Japanese anime and manga series that follows a group of teenage girls with superpowers.
To say I was obsessed with this series would be putting it lightly. I was a fanatic. Every day when I came home from school, I would grab a snack, turn on Cartoon Network, pop in a blank tape, and record the newest episode of Sailor Moon. I owned the dolls. I had the movies (and charged admission for my cousins to watch them). I memorized the theme song. I visited the website every day, ravenous for any morsel of information I could find on the series.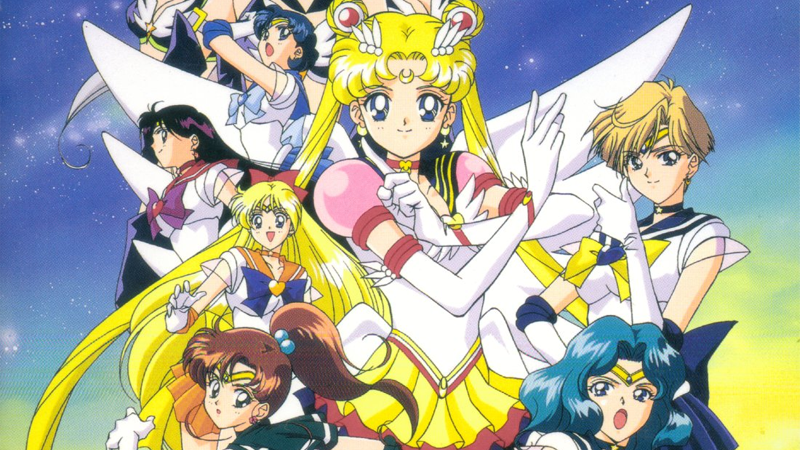 It's hard to say exactly why I liked Sailor Moon so much, but when I look back on it, I think I was drawn to the story of a nerdy, clutzy, teenage girl saving the world. I was someone who grew up liking what was considered "boyish" things like Star Wars, science fiction, Batman, etc. There were very few female characters for me to look up to. Sailor Moon was different. The show offered a complete cast of female characters, each one equipment with their own personalities and flaws. That's fascinating to me. I feel like Sailor Moon doesn't get the credit it deserves for this incredible feet.
Anyway, I loved the show so much that I decided to write my own story based in that world. I was only in second grade and didn't know what fanfiction was at the time. All I wanted to do was create my own narrative in the Sailor Moon universe using the same characters.
So I sat down in front of my old Packard Bell computer and typed out a ten page story filled with cliches, typos, and just poor writing. But I was proud of it at the time. So proud in fact, that I printed it out and placed the story in one of those clear plastic sleeves students used back in the day to turn in papers. I placed it on my book shelf next to my favorite novels as though it was worthy of such a position.
"Forever in Our Hearts" has been lost to time. No digital or hard copy exists. I have written many stories since then, but that little piece of fanfiction will always count as my official foray into writing. It wasn't good. The plot was derivative and I am happy to say that I have improved tremendously since then.  But that story was a milestone for me because it was the first time I put pen to paper with the intention of creating something. I had no illusions about getting published. I didn't even let anyone else read it. The narrative was just for me. It was writing in it's purest, most unadulterated form.
Now that I am embarking on this journey to write and publish a novel, I find myself thinking back to "Forever in Our Hearts" more often. Do you guys, my fellow writers, do the same? Do you often think back on your early works? Let me know in the comments below.
How have the first four days of Camp NaNoWriMo panned out for you? Did you get a lot of writing done? Have you even started yet?
Here is another selection from my writing playlist. "Fast Car" by Tracy Chapman. This song really helps me get into the mindset of my protagonist.
Until tomorrow, kill your darlings, slay your dragons, and keep writing!
Camp NaNoWriMo Stats
Target Word Count: 20,000
Words Written Today: 2,192
Total Word Count: 3,482
Words Remaining: 16,518